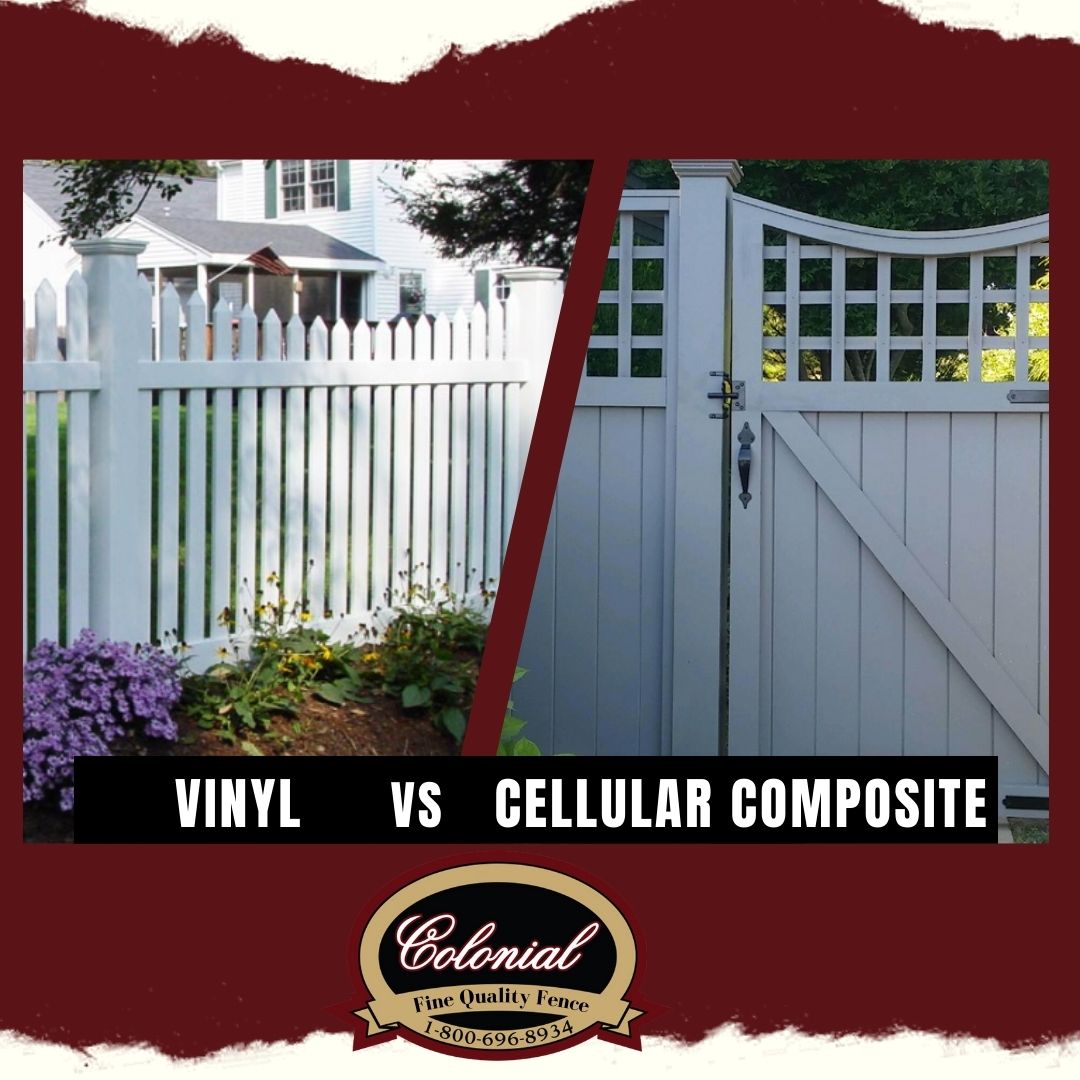 Behind the Fence
Vinyl Fence Vs. Cellular Composite Fence: An Honest Comparison
While classic wood and metal fencing have their place, the performance and aesthetic appeal of modern materials like vinyl and cellular composite are hard to beat. Both vinyl and composite fencing are generally more durable and easier to maintain than their predecessors. However, there are important differences between the two mediums that are worth exploring before choosing one for your own property. In this article, we aim to shed light on the topic so that you can make an informed decision.
A Closer Look at Vinyl Fence

Born from the widespread use of polyvinyl chloride (PVC), a type of plastic, vinyl fence is a popular choice due to its affordability and durability. Another key selling point is low maintenance. It does not require regular painting or staining and can be easily cleaned with soap and water.
Vinyl fence is also a great choice for families with young children and pets because there are no sharp edges, nail or screws to worry about.
From the standpoint of sustainability, choosing vinyl can help prevent deforestation associated with wood. Additionally, vinyl fence is generally comprised of recycled plastics, further reducing its environmental footprint.
Despite its robust nature, vinyl fence does have its limitations. For one, it can become brittle when exposed to extreme temperatures over time. Even so, most vinyl fence installations will last well over two decades with proper maintenance.
Color degradation from sun exposure was a problem with early vinyl fence. Now, UV-resistant vinyl has put those concerns in the past.
The Rise of Cellular Composite Fence
On the other end of the modern fencing spectrum, we have cellular composite fence. This innovative product is typically made from a blend of recycled plastic and wood fibers. The result is an appealing look and feel of natural wood without the common issues associated with it -- like rotting, warping or susceptibility to pests.
While cellular composite fence generally comes with a higher price tag than vinyl fence, it also offers some significant advantages. For instance, the material is highly durable and less likely to warp, crack or become brittle in New England weather.
Cellular composite fencing often comes in a wider range of colors and finishes, including those that mimic the look of real wood. This provides you with the design flexibility to match your property's existing style or completely transform it with an entirely new look.
The use of reclaimed or recycled wood fiber and plastics in the manufacturing of cellular composite fence makes it a green solution when compared with traditional lumber.
Making Your Decision
Choosing between vinyl and cellular composite fencing ultimately comes down to your individual needs, budget and personal preferences. If cost is a significant factor and you live in a moderate climate, you might lean towards vinyl fencing. However, if you're looking for a more robust, versatile and aesthetically pleasing fence, and are willing to pay a premium for these features, cellular composite fencing could be the better choice.
Either way, with both vinyl and cellular composite fencing, you'll be getting a modern, stylish and durable addition to your property.
Reach out to our team using the form or phone number here on our website and we'll be happy to help answer any other questions and get you a quote.